Little jerusalem has a new and exciting feature on our website. A new inovative creative idea from our very own Lily Brannon. The Artwork series is called "Sillylily". An example of some of her work is found below, but Lily's "Sillylily Art Series" connected with Little Jerusalem will soon be on display and available for order. Please stay Tuned for new and upcoming Sillylily Art work. Check out her time lapses and see the creator at work in Israel.
Little Jerusalem: Art Auction
Little Jerusalem is holding an art auction, for a fundraiser for local volunteers to be able to continue their calling in Israel. The Bottom piece was painted by Lily Brannon. Acting as a prophectic painting for Jerusalem living out the verse:
On that day his feet will stand on the Mount of Olives, east of Jerusalem, and the Mount of Olives will be split in two from east to west, forming a great valley, with half of the mountain moving north and half moving south.. Zechariah 14:4
"Please contact us if you want to up the bid and get involved" or send an e-mail to jerusalemlittle@gmail.com
Newest Bid $112 (439 NIS, R1300) by Jaco Liebenberg
Sold To Final Bidder.
Bid Ending On - 24th December 12.00 am
Get you're bids going, don't miss out!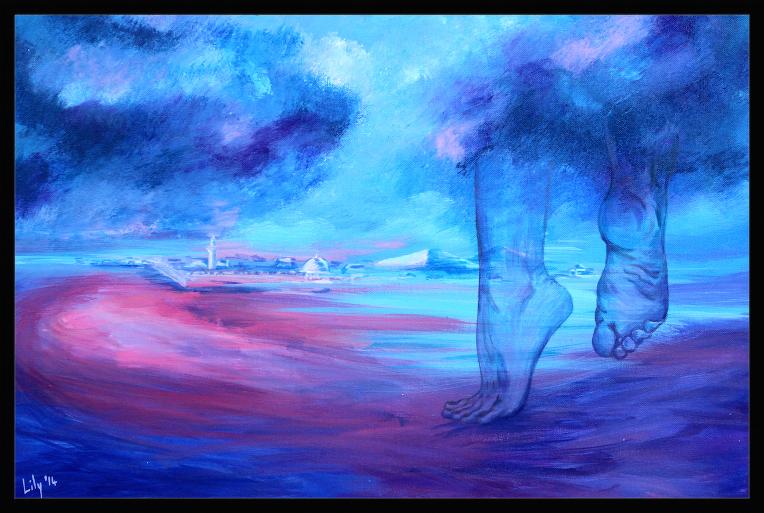 "Sidelight"
Acrylic on Canvas
A3
Lily Brannon
This is Little Jerusalem's verry own artwork done by Lily Brannon. The work simbolises that "out of all chaos new oder can be born".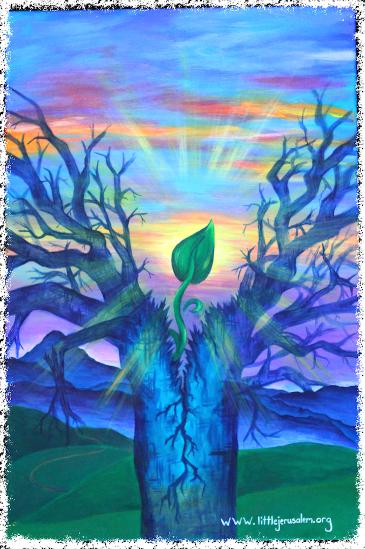 As We Long
Oil pastel on cardbord, A2. This art work was created in Israel. The image began as a black man, titled: "My black brother" to express my longing for Africa and the Xhosa language. The Art piece was created with Oil Pastel on old cardboard. I used Beet root as a "wash" for the background stain and effect.
My path in Israel crossed with Ya'el, a messianic Jewish girl that I met here in Israel. I felt like I was supposed to give the art piece to her. Before the art piece was finished, she told me that it reminded her of her sister who had cancer. I spent the entire night, finishing the painting until early in the morning hours. When I finished the paitning, it ended up 'unintentionally' looking like a woman, & according to her, a lot like her sister. I gave the Art Piece to Ya'el with the following words written on the back:
"May u keep ur eyes on the light and be filled by his rainbow"
The Art Piece is now known as "As We long". To draw a parallel line, between humans and their longings. Longings ly deep in every one of us, whether it is towards a close relative, like a sister, or on a bigger scale like that of a country and land. - Lily Brannon
Without knowing I have a half brother staying in Jerusalem, I decided (at the end of last year, 2013) to come to Israel.
Kowinkidink? I think not!
I met him for the first time in January this year 2014 when he came to visit our Dad in South Africa. By this time I had already bought my ticket to the land of milk, honey and free wifi.
Now I am standing on the soil where he grew up, learning a bit of hebrew daily. It still feels surreal, every time he crosses my mind I feel so blessed and experience an unexplainable joy. I don't see much of him as he is in the IDF (Israeli army) but at least I am so much closer than ever before. "I feel honored to be your sister! Feels like I've known u forever!" If thats not God? I dont know what is?
This mural in currently in the wall of his lounge. Everytime I would vist him I would paint a little more. This is much more than just an artwork, it is a story of reconciliation in connection to the altumate creators creation. Glory to God.