Order your copy now!!
Own your own copy of "The Walk" for only $24.99.
The documentary Premiere was a complete success! Thank You for all your prayers & support. We could not have done it without you. If you would like to order your own copy of "The walk - In His Footsteps", please send an e-mail to shaun.boshoff@gmail.com or contact us on our contact page, just donate $24.99 or more with the donate button below, and fill in your postal address with a private message, and we will ship it to you with no extra charge.
Check out the trailer on the YouTube link below! You are going to love it! A documentary like this has never been done before.
We are selling this Documentary on a USB Flash Drive, so it is HD quality, including Part 1. The Northern Borders -(Approx 1.5 Hours), Part 2. The Southern Deserts (Approx 1.5 Hours) and The Dance Of The Mahanaim Music Video (Approx 7 min).
Help us spread the awareness of the True Israel. For more information about this exciting Documentary, just scroll down this page and watch the trailer.
"The Walk" is perfect for cell groups, youth groups, discussion groups, presentations about Israel, Churches and more.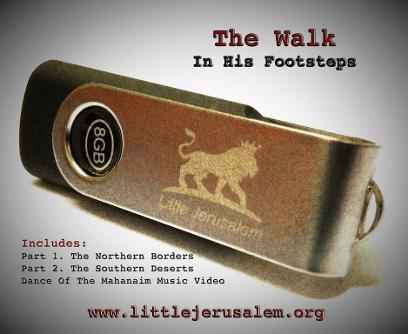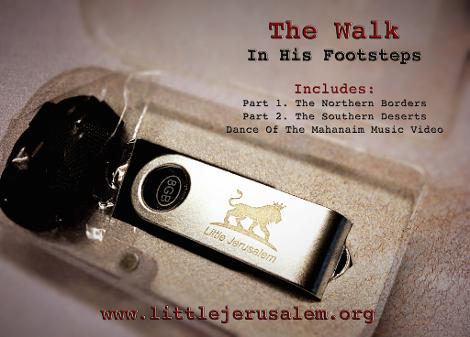 The Walk - Wherever your foot touches.
Together We can make a difference.
Claiming back God's Nation one step at a time.
Before the nation of Israel went into the Promised land, God said: Every place where you set your foot will be yours: Your territory will extend from the desert to Lebanon, and from the Euphrates River to the Mediterranean Sea. No one will be able to stand against you. The Lord your God, as he promised you, will put the terror and fear of you on the whole land, wherever you go.
Deuteronomy 11:24 -25
we believe the above mentioned verse is a promise from God, that we would like to help put in reality. As a prophetic act we will be starting a 1000 km prayer walk, from the most Northern point of Israel, starting at the Lebanese border and will walk all the way down to the Southern most point, the Egyptian border. We will be praying and claiming back the Nation of Israel for God and The Jewish people. Our Journey begins 1 December 2014 and will end Mid February 2015. We have begun a fundraiser for anyone who would like to support the cause, where you can commit to sponsor a certain amount for every km walked. For example: US 0.10 p km. Resulting in a $100 in total. Or any amount you feel like. We are calling this Fundraiser - "The Walk" (Very catchy right?) We really need your help. The finances generated from the sponsors will be separated into the following:
1). Scholarships for Local Jewish youth who believe in Jesus, helping them fulfill the call God has put on their lives, with studies, training and musical learning in Jerusalem
2.) Helping a new Soup Kitchen, started by the local Christian congregation, and run by local Christians in Jerusalem for the poor, broken and needy people of Jerusalem.
3.) New Media equipment for the free online Israel awareness movies, created by Little Jerusalem, helping the world understand the truth and reality of Israel.
We will keep you posted about the walk through our newsletter where you can subscribe at:
or keep checking our updates on
Check our tweets on The Twitter Walk
and check our website for upcoming videos about the trail at www.littlejerusalem.org
We will be posting the amounts of funds generated by "The Walk" on our website and Facebook page. Please help us and let's see how much we can generate for the nation of Israel together as a believing body.
Just send us an e-mail or facebook message about your sponsored amount and we will send you our paypal donation button, which you can find here:
Thank you so much for your time.
God Bless those who bless Israel.
The sky is the limit.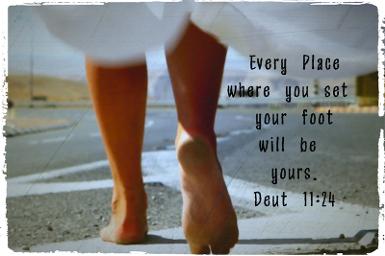 Fundraiser Donations can be given by pressing the following donation button. Credit Cards and Paypal accepted. Any Amount accepted.
Thank You again.
God Bless
We have rasied a whopping US$ 1280 for our three causes in Jerusalem. Praise God.
Amount Sponsored So far:
As of 2 December 2014
US$ 0.10 p/km from Anonymous
US$ 0.10 p/km from The De Manielle Family.
US$ 0.30 p/km from Hege & Alistair Miles
US$ 0.20 p/km from Ola Ostveit
US$ 0.30 p/km from Staub family
US$ 0.02 p/km from Anja Maree
US$ 0.175 p/km from Annemarie Boshoff
US$ 0.087 from Nina Swiegelaar
Total Amount Raised So Far = US$ 1280.00
(Nis 4981, R14589, kr 9666)
Keep it going Friends! Together we can make a difference!
Day 1 has begun! Quite a lot more than intended, but we are safe, and alive. We got a ride from a young Israeli, who took us straight to the beginning of the trail. The view is amazing and absolutely green. We could see the snow on Mount Hermon, and the wildlife is amazing.
Day 2-7) Obviously our internet and electricity is a little non exsistent. But we have gone over 50km, our bags are too heavy with all our equipment, so we will be dropping off all the unneccesaries, and just keep going with the bare minimum. It has been such a powerful journey, and most of our updates can be followed on our facebook page
Day32) Arrived in Jerusalem for the Civil New Years (half way point) -What an adventure. The testimonies and stories are absolutely indescribable. For a quick insight, please click on the following link to have a look at our newsletter about the walk. (Subscribe at bottom of newsletter if desried)
Day37) There is a snow storm in Jerusalem, and a massive rain/hail storm for the next week throught Israel, even the schools have shut down, but God has let it on our hearts to keep going. Amazingly enough, with the hospitality of the country, many local Israelis have taken us in and help us dry our stuff, giving us shelter from the storm. This country just keeps on surprising me more and more. Last night we stayed with a group of 40 kids who just finished the high school, where they are in a one year program preparing them for the army. I was invited to speak there and share my story of how a Christian Gentile like me ended up helping God's nation. How amazing is that. God is full of surprises and never ceases to amaze me. Tonight we are staying with 11 boys, in a kind of a bootcamp mixed with agriculture, also preparing them for the army. This country is so hospitable. God Bless Israel, and we pray for the Peace of Jerusalem.
Done & Dusted

Thank you so much for your amazing support. We have safely finished the 1000km prayer walk over the entire country over Israel.
We were able to share our testimony with several hundred people on the trail. A complete blessing from Yeshua. The miraculous stories from the trail are uncountable, but all I can say is that God simply surprises you the most when you step outside of your comfort zone.
From being chased by Extremists, to invitations for family dinners, to meeting other Messianic believers and seeing 1500 year old Mosaics with Jesus's actual Hebrew name written in them by Believing priests from the second temple and so much more; all we can simply say is that we believe God has used our feet to claim back every place our foot stepped upon for Him and His purposes alone. Amen.

The trail has come to an end, but a new journey begins. We filmed an amazing documentary of the entire two months, and interviewed over 50 local Israelis, where I now need a room in Jerusalem to work. I'm really struggling to find a cheap apartment in Jerusalem, it really has been a warfare. Please pray for me for a breakthrough, for an apartment and financial support that I would be able to rent, as well as work for His call on my life.
Amen & Thank You All. Be Blessed.
Keep Checking out our website for updates on the release of "The Walk" Documentary. You won't regrette it.
We have tried to keep on updating the website to keep you updated, but we're finding it a little difficult while we're doing the 1000km prayer walk. So if you would like to look at any updates, or videos, just check out our facebook page. Click on this link. Thank you. And have a Blessed 2015!!
www.facebook.com/littlejerusalemstudio
Please keep sharing our story, we have had such good feedback. The world is truly standing behind Israel. Praise the Lord.